SonovaStitch-Along Season 3: Everything is Wholesome! (Mystery StitchAlong SAL)
Regular price
$24.99 USD
Sale price
$19.99 USD
Unit price
per
Sale
Sold out
Pre-launch pricing! Stitchers who sign up before the first Episode releases save $5!
Plus! You'll get an extra 25% off any other digital patterns you buy along with the SAL!
Better yet, Patrons get access automatically, in addition to their regular monthly rewards!
This Mystery SAL is inspired by Interlocking Brick Toys similar to those made by a certain very litigious Danish company, and by all the wholesome public figures who are (or were) just too damn good for this world.
We'll be cross stitching minifig versions of 16 of the most wholesome household names (real people, not fictional characters — though sometimes dressed in their most iconic characters' wardrobe) on a large (nearly 11x14") piece. There's a fair amount of open space between sections (~29% coverage), so this will be a good opportunity to use that large piece of beautiful specialty fabric you've been saving for just the right project! 
I'll also be creating a few alternates as we go along if you happen to disagree with the wholesomeness of any of my choices (or if you just don't dig one all that much). 
Release Schedule: 
Episode 1:         May 2, 2023.
New Episodes:  1st and 3rd Tuesdays each month thereafter (with bonuses anytime there are 5 Tuesdays!)
How it works:
After buying this listing, you'll be able to immediately download the welcome packet. This will include my welcome letter and artist's statement, the materials list, and the central portion of the pattern with the words! Starting on May 2nd, you'll get an email from me (ford (at) sonovastitch (dot) com) with an announcement of the week's episode. Make sure you add me to your contacts list so it doesn't go to spam!
Also make sure you provide a valid email address when you check out so that I can send you each episode! 
Each episode's pattern will consist of a new minifig styled after a wholesome famous person. The standard size for the minifigs is 28x33 stitches, but of course each one varies a little bit in height and width and some have special accessories!
Project Details:
Formats: Each pattern will contain 3 PDFs:
1pg color+symbols for digital devices

4 pg color+symbols for printing

4pg symbols-only with contrasting backstitch guide
Overall Size: 187x144 stitches (see images for sizing on different fabric counts)
Stitches used: Full X, ¾, ¼, backstitch, French Knots
Colors: 46 DMC Colors, including 4 Light Effects (metallic) colors and one blend.
Difficulty: ⚫⚫⚫⚫⚪ Moderate-High (we're pulling out all the stops, but the other stitchers and I are here to help if you need it!)
Dimensions

See graphic for finish sizing at different aida counts
Share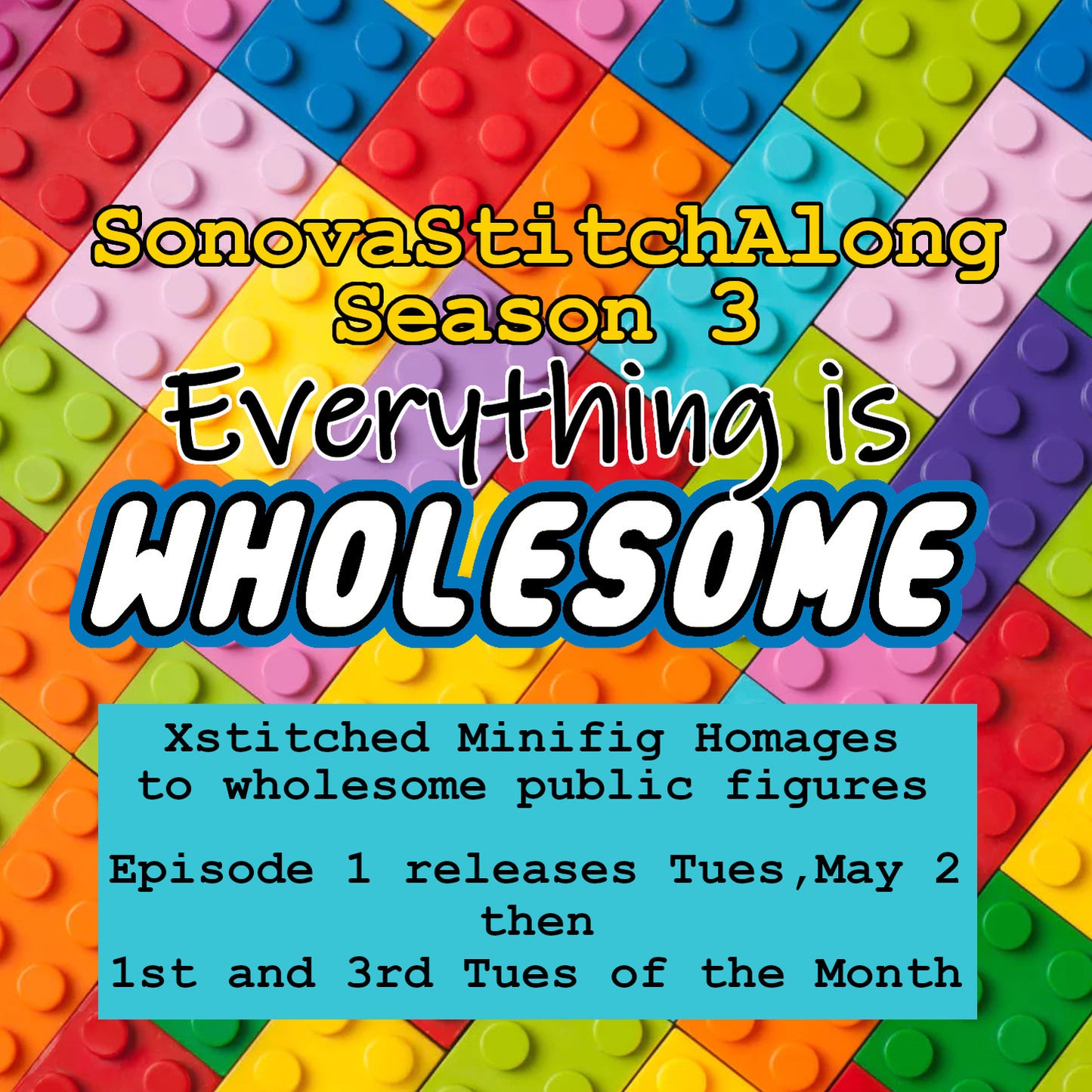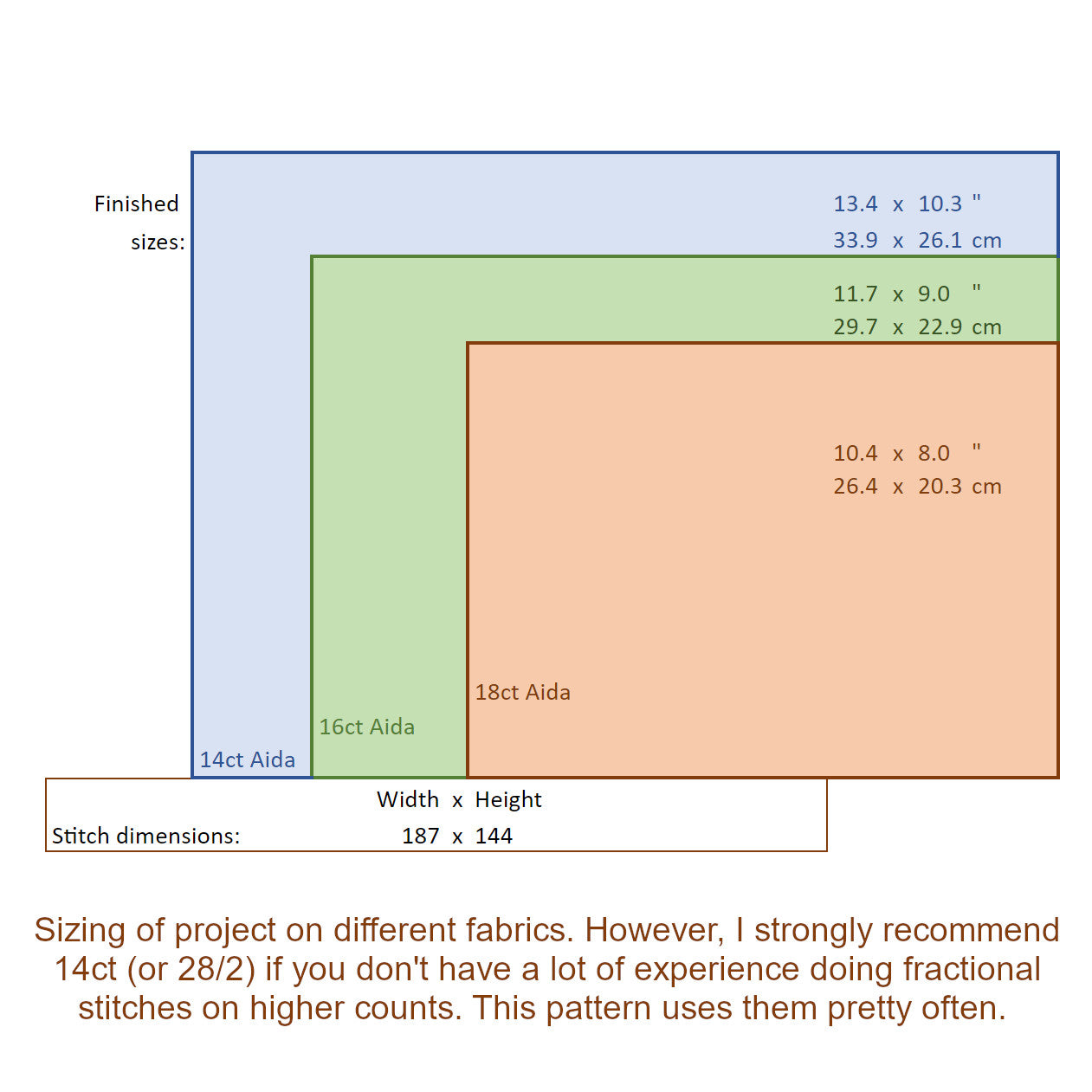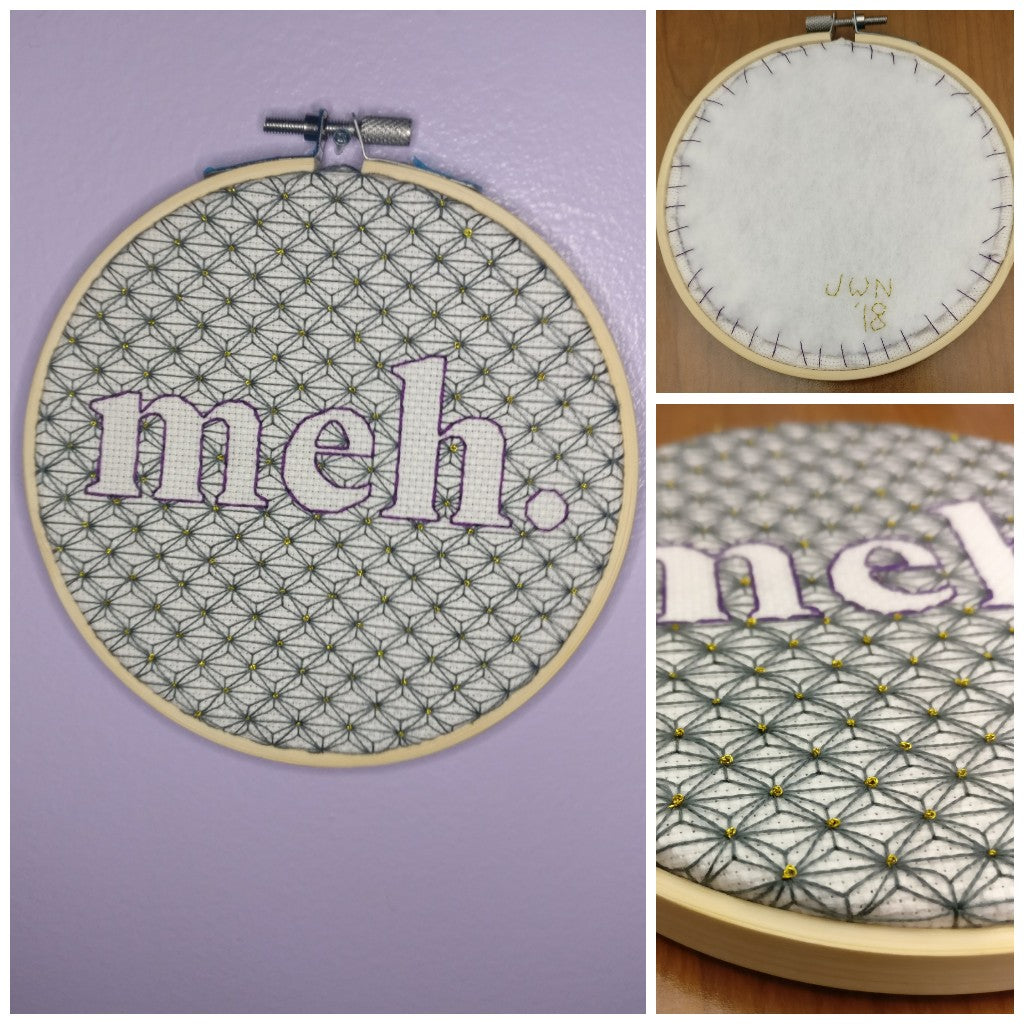 Shop my collections
Check my catalog for more patterns. I'm always trying to push myself to create new and inventive patterns like no other cross stitch designer.
Instant download

You will receive a link to download your PDF right after your payment is completed.

Satisfaction guarantee

I make my patterns to the highest quality, and if you have a concern, question, or feedback, please let me know. If I can't resolve it to your satisfaction I'll refund your purchase.